ROSCOFF (https://www.roscoff-tourisme.com/en/ ), an old pirates' nest, is a small town situated on the northeast coast of Brittany, 16 miles away from Morlaix, 37 miles from Brest, and 131 miles from Rennes.
The weather is generally mild, sometimes windy and rainy, but not so cold in winter due to marine winds. Founded in 1872, the BIOLOGICAL STATION is presently one of the leading marine laboratories in Europe. It is affiliated with the National Center for Scientific Research (C.N.R.S.) and Sorbonne Université. (https://www.sb-roscoff.fr/en )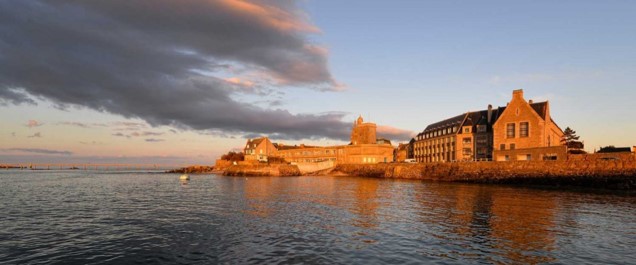 Travel
ROSCOFF can be reached:
- by ferry from Plymouth (United Kingdom),
- by plane from Paris or elsewhere to Brest, then by taxi,
- by TGV (high speed train) from Paris (Montparnasse train station or Charles-de-Gaulle airport) to Morlaix, then by bus or taxi.
Taxi
You can contact the taxi company here to manage your transfer. Morlaix, Brest, Roscoff
Some of them can handle to bring up to 8 people in one transfer, for a reasonable price.
for more information contact us : ecsd7-admin@sciencesconf.org
Accomodation
If you choose to take the accommodation with us, you will stay in a single room with shower and toilet. If you wish a double room, please indicate it on the registration form and inform us if you will be sharing the room with a meeting participant (indicate his/her name in this case) or with an accompanying person. The price per person is 65 euros per night (breakfast included, tourist tax not included).All the room have to be free for the Thuesday evening.
The conference room is equipped with a PC computer, a video-projector (compatible with PC and Mac). Internet access (wifi) is available in the buildings of the Biological Station.
It is recommended to arrive at the Biological Station on Sunday evening before 19:30, so that you do not miss the ice breaker event.